Image
Get Your First Lawn Treatment Free in Sandy Springs
Lawn Care in Sandy Springs
Are you tired of looking at your lackluster landscape? Do you wish you could have a vibrant, healthy yard without the stress and hassle? Look no further than WinLAWN, your local lawn care service with over 10 years of experience. We offer a range of services to tackle all your lawn care needs, including:
Lawn Fertilization: Our expert technicians will provide your lawn with the nutrients it needs to thrive.
Weed Control: Say goodbye to pesky weeds and hello to a pristine, weed-free yard.
Lawn Aeration: Improve the health of your grass by allowing air, water, and nutrients to reach the roots.
Lawn Disease Control: Protect your turf from common diseases that thrive in Sandy Springs' climate.
At WinLAWN, we are not just a company, but a team of lawn enthusiasts who understand the importance of having a yard you can be proud of. That's why we back our services with a full satisfaction guarantee, ensuring you can feel confident in choosing us for all your lawn care needs. With our 100% guarantee, you can trust us to deliver exceptional results.
Image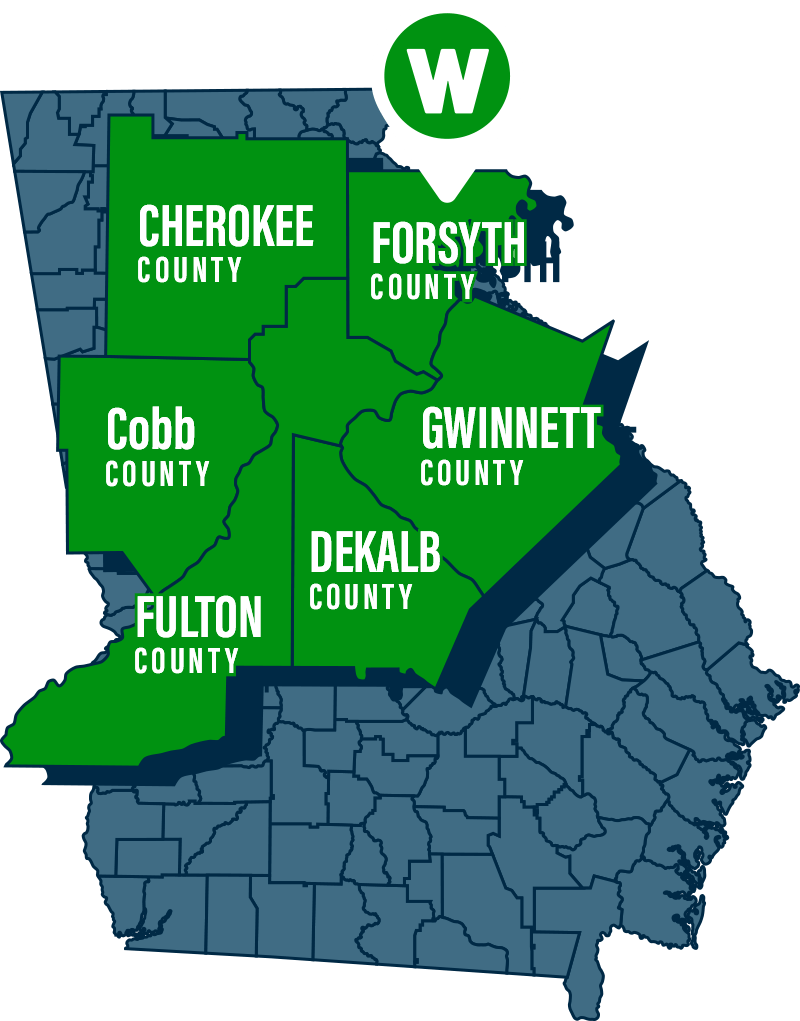 Our Lawn Care Services
At WinLAWN, we provide industry-leading treatment plans that are affordable and highly effective. We specialize in servicing all major grass types in Georgia, including Bermuda, Zoysia, and Fescue grass. We offer comprehensive lawn care packages, to address all of your lawn's unique needs. Our packages include:
The Standard Plan: This plan includes 8 lawn treatments per year and is designed to give you a lush, green, and weed-free lawn. It includes strategically timed pre and post-emergent weed control applications and professional lawn fertilization throughout the year. It is custom-made for each of the major grass types in Georgia.
The Premium Plan: In addition to the 8 lawn treatments included in the Standard Plan, our Premium Plan also offers a 7-treatment program specifically designed for ornamental trees and shrubs. This program includes fertilization, disease control, and pest control to ensure your yard flourishes in every aspect.
When it comes to our services, we pride ourselves on using only industry-leading products that are applied by our fully trained lawn care technicians!
Weed Control in Sandy Springs
Say goodbye to pesky weeds in your lawn with our guaranteed weed removal service in Sandy Springs! We offer year-round weed control that will keep your lawn looking pristine all year long. Here's why you should choose us:
Tailored Weed Treatments: Our weed control plans are customized to target the common persistent weeds found in Sandy Springs, GA. We know exactly how to get rid of these stubborn weeds for good.
Pre-and-Post Emergent Applications: Our lawn weed service includes both pre-and-post emergent applications. This means we treat your lawn before and after weed growth to provide comprehensive weed control.
Broad Spectrum Weed Elimination: We utilize multiple broad-spectrum weed control products throughout the year to provide our customers with extensive coverage.
Satisfaction Guarantee: We stand behind our work and value your peace of mind. That's why we offer a full satisfaction guarantee on all our weed treatments. If you're not completely satisfied, we'll make it right.
Don't waste your time and money on unreliable weed control solutions. Trust the experts at our weed control service in Sandy Springs to provide you with the best results. Say goodbye to weeds and hello to a beautiful, pristine lawn. 
Lawn Fertilization in Sandy Springs
You can have a perfectly manicured lawn, with impeccable style and flawless sun exposure. But if you neglect the most essential ingredient, your grass will never reach its full potential. Just like us, your lawn needs the right nutrition to thrive. And that's where our lawn fertilization services in Sandy Springs are here to help!
With a plethora of options out there, choosing the best fertilizer can be overwhelming. Here at WinLAWN, we've got the perfect blends of fertilizers that are tailor-made for your specific turf. And with our seasonal applications, your grass will be getting the top-notch nutrition it craves all year round. Our seasoned experts adjust the applications to cater to your grass all year round. We believe in providing year-long nutrition because your lawn deserves to be at its healthiest and happiest in every season.
Don't settle for less when it comes to your dream yard. Trust the experts who have the know-how and the nutrients to make it happen. Choose us for your lawn care needs and watch your lawn reach its ultimate potential.
Lawn Aeration in Sandy Springs
Unlock your lawn's full potential with our exceptional lawn aeration service in Sandy Springs. Our science-based approach guarantees superior results and a healthier turf that will make your neighbors green with envy. Here's what sets us apart:
Promotes healthier turf: Our innovative dethatching and core aeration techniques break up compacted soil, allowing for greater rooting and deeper nutrient release. Your grass will thrive like never before.
Thatch removal: Our thorough dethatching process eliminates excess thatch, which can suffocate your grass and hinder its growth. Say goodbye to bare patches and hello to a lush, vibrant lawn.
Improved soil, air, and water circulation: Our aeration techniques create channels in the soil, allowing for better circulation of air, water, and nutrients. This leads to improved overall soil health and a thriving lawn.
Long-lasting treatments: Our expert technicians are dedicated to providing you with long-lasting results. We understand that your lawn is an investment, and we ensure that our aeration treatments have a lasting impact.