Image
Get Your First Lawn Treatment Free in Alpharetta
Lawn Care in Alpharetta
Nothing completes your home's look like a vibrant and healthy yard sitting in front of it. And while getting your grass to look like that might seem as simple as throwing out some seed and running the hose for a while, in reality, there's so much more that goes into lawn maintenance. So if taking on even more work around the house doesn't sound like fun but you still don't want to settle for average grass care, give us a call and you'll get: 
Year-round fertilization.
Weed control and prevention.
Lawn aeration and seeding.
Disease and fungus control.
Outdoor pest control. 
And much more! 
Image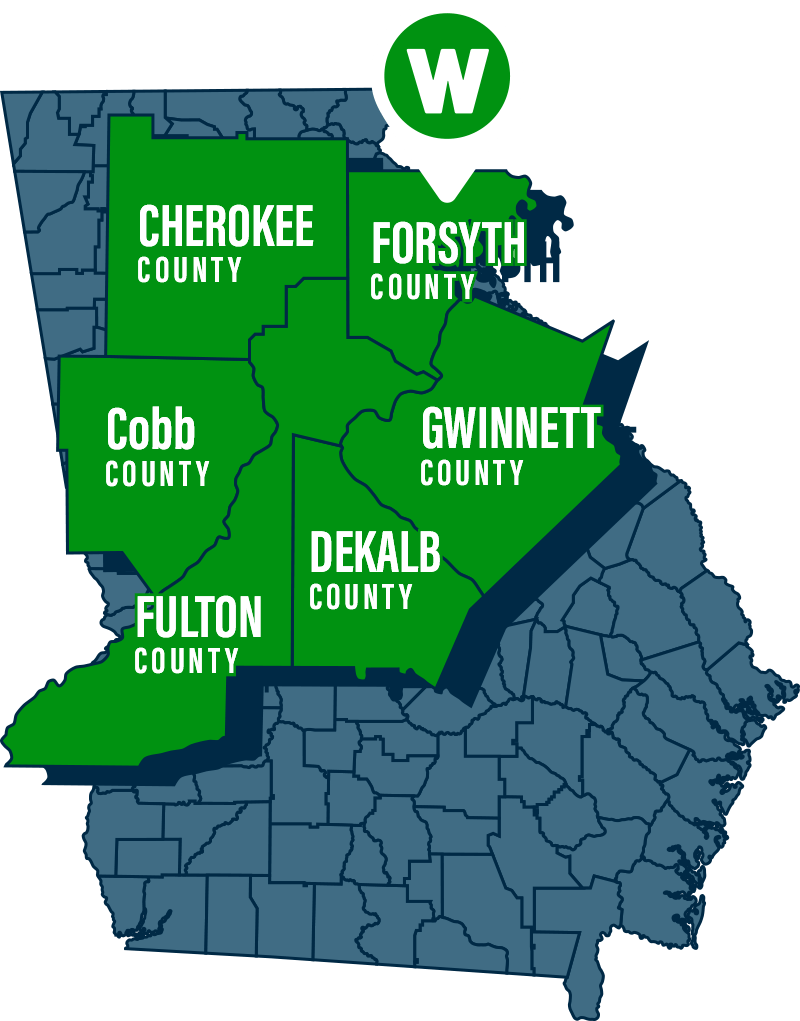 Trust in our 10+ Years of Local Experience
When it comes to lawn care, experience makes a difference. Why would you trust a team of technicians operate by an unlicensed company? At WinLAWN, however, we've provided high-quality lawn care in Alpharetta for more than a decade now and have a long list of happy customers who can vouch for our results. See what all the buzz is about today when you sign up to receive:
Lawn treatments from a qualified, local lawn care technician. 
Custom-designed treatment plans which we'll adjust to your specific grass type. 
8 appointments per year for year-round and seasonally-adjusted care.
EPA-Approved lawn care products. 
A tried-and-true, science-based approach that we guarantee will give you a lawn you can feel good about.
And lots more! 
Schedule Your Appointment Today
Contract-Free Service
Here at WinLAWN, we believe that our service should be our calling card. It's a reflection of both our confidence in the quality of our work and of how confident we are that, once you see our results for yourself, you'll be a customer for life. That's why we're proud to offer our customers contact-free service! With us on your team, you'll never be locked into a long-term arrangement and can maintain your flexibility.
Weed Control in Alpharetta
Invasive yard weeds aren't only unsightly but can rob your plants of the nutrients, water, and space they need to grow. Horrible though they may be, constantly staying on top of nuisance yard weeds can be a challenge, so why not let the local experts do it for you? Our pre and post-emergent weed control in Alpharetta works all year to protect your yard from: 
Broadleaf Plantains
Chickweed
Clover
Crabgrass
Dandelions
Henbit
Nutsedge
Wild Onions
And many more! 
Lawn Fertilization in Alpharetta
Without proper nutrients, you can never expect your lawn to stay healthy and reach its full potential. After all, your grass needs quality nutrition if you want the picturesque yard of your dreams. That's where our lawn fertilizing in Alpharetta can really come in handy. Save yourself the trip to the hardware store, where you have to spend a great deal of time sorting through lawn fertilizer products and instead, choose the area's most-trusted lawn care experts to provide you with: 
The right fertilizer blends for your specific turfgrass. 
Seasonal applications to ensure that your grass has quality nutrition all year. 
Highly effective products that nourish and replenish your lawn.
A properly nourished and healthy lawn that you can count on to stay that way. 
And a whole lot more!
Lawn Aeration in Alpharetta
At some point or another, everyone's grass will need a little extra help. More often than not, that help comes in the form of lawn aeration in Alpharetta! This seemingly simple yet critical lawn care service fixes a multitude of common issues which plague even healthy grass. That's why we tell all of our clients to get their yards aerated at least once a year. Additionally, our aeration service will provide your grass and soil with some significant benefits, including: 
Looser soil will allow your grass roots to grow without obstruction. 
Better access to water, oxygen, and nutrients for both your grass and the surrounding soil biome.
A significant reduction in the level of standing water on your lawn, which will reduce instances of both diseases and fungus.
Healthier grass which can outcompete weeds and resist pests. 
A more dense and healthier appearance when aeration and seeding are performed together. 
And more!
Your Satisfaction is Fully Guaranteed! 
What good is a lawn service company that doesn't back up its promises? Not much, if you ask us. Here at WinLAWN though, we value your time, money, and confidence. That's why we back every service we provide with a complete satisfaction guarantee! Our turf care isn't finished until you're happy so if we haven't done our job to your standards, just let us know and our lawn care experts in Cumming will come back to make things right.