Image
If You're Ready for the Lawn of Your Dreams, We're Here to Help!
Lawn Care in Marietta
It's easy to look around the neighborhood at your neighbors' manicured grass and feel a bit of envy. While they're justifiably proud of their yards, chances are that they didn't get them looking that way without the help of professional lawn care services. So if you're tired of wishing that your grass could look its best, only to see it fall short every year, give us a call today to receive:  
Seasonal fertilization.
Pre and post-emergent weed control.
Aeration and seeding.
Disease and fungus control.
Outdoor pest control. 
And a whole lot more! 
Lawn Care Service on Your Schedule 
One of the many reasons why people let their yards languish is a simple one - getting professional lawn care service can be inconvenient. Here at WinLAWN however, we aim to work around your busy schedule with our flexible lawn services! You shouldn't have to rearrange your whole day just to accommodate your preferred lawn care company, so the next time you decide that your grass could use some lawn maintenance help, pick the team that works around you.
Image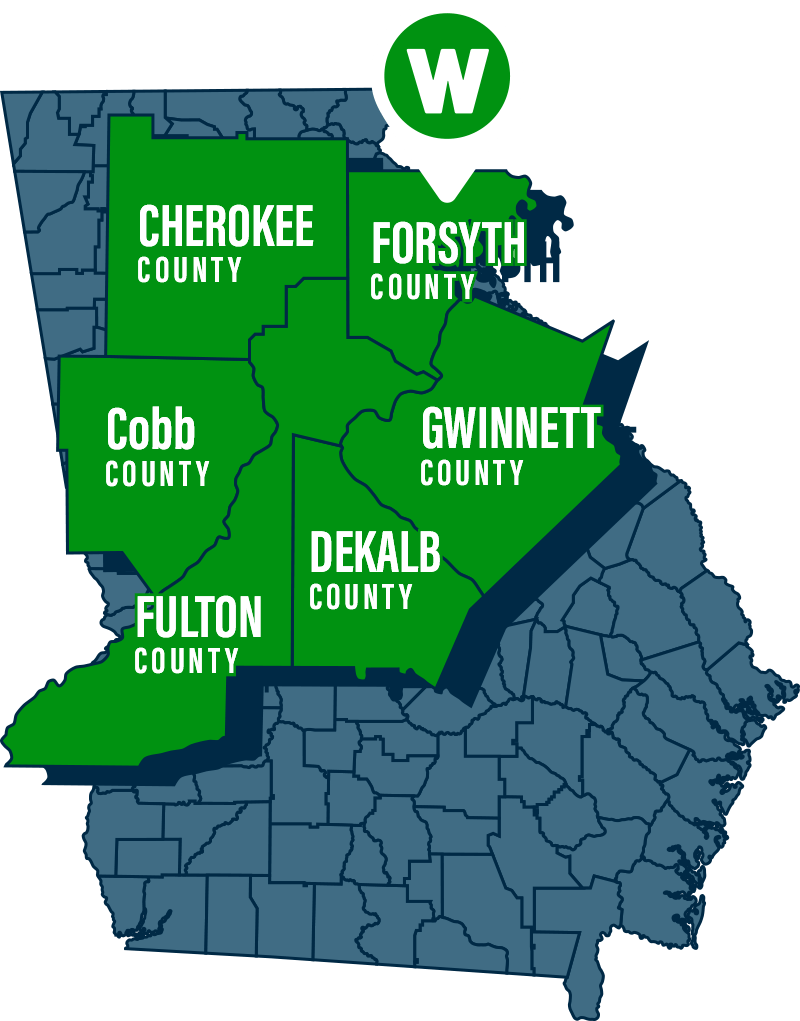 Industry-Leading Products You Can Count On
A healthy lawn doesn't need to come at the expense of the surrounding environment, at least, not when you work with us! We take pride in utilizing industry-leading products that you can still depend on to pay dividends in your yard. Your grass isn't separate from nature but, rather, is a part of it. That's why we choose to take a custom approach to lawn care. We know every lawn is different, and we treat is as such. 
Our lawn care in Marietta includes:  
Tailored treatment plans that we build around your specific grass type. 
8 separate appointments which provide you with year-round care that changes with the seasons.
Contract-free service that won't lock you into a long-term plan. 
A science-based approach to both lawn care and maintenance.
And so much more! 
Weed Control in Marietta
Weed control treatments are essential to keep your grass looking lush and healthy from invasive weeds. These aggressive plants can move in on your lawn in what seems like no time and quickly displace anything in their path. Worse still, weeds can steal water, nutrients, and space from grass, which can crowd out and kill your lawn. Keeping them out of your lawn can be a full-time job though, so instead of spending all day monitoring their progress, look to us for proper weed control in Marietta! With us on the case, you can expect lasting protection from:
Broadleaf Plantains
Chickweed
Clover
Crabgrass
Dandelions
Henbit
Nutsedge
Wild Onions
And many, many others! 
Lawn Fertilization in Marietta
Lawn fertilizing is a great way to ensure that your grass remains healthy and full of life throughout the year. Fertilizer helps to protect your lawn from diseases and weeds while providing the necessary nutrients for it to thrive. Without the right food, your grass will never achieve the vibrant, green look that you've been after this whole time, so make sure that it has exactly what it needs with our lawn fertilization services in Marietta! With us on your side though, both you and your grass can expect: 
Appropriate lawn fertilizer blends for your grass type. 
Seasonally-adjusted applications which will guarantee that your grass has the quality nutrition it needs to thrive all year, regardless of conditions.
High-quality products that penetrate the soil and deliver nutrients to your grass. 
The healthy, sustainable, and beautiful lawn that you've always wanted. 
And more!
Lawn Aeration in Marietta
Over time, your soil will naturally become dense and nutrient-deficient which can lead to a wide variety of related problems. For example, if you notice an influx of weeds like crabgrass, areas of thinning grass, excessive standing water, or a complete lack of new growth, your lawn almost certainly needs to be aerated. That's where our expert grass care comes in! When you sign up for our aeration in Marietta, you can anticipate numerous benefits to your yard, including: 
Properly-tilled soil in which your grassroots can easily grow to its ideal depth. 
Increased levels of water, oxygen, and nutrients underneath your grass.
Greater resistance to both weeds and pests. 
Reduced levels of standing water, which will decrease instances of disease and fungus.
A more dense, lush, and vibrant appearance when aeration, seeding, and fertilization are done together. 
And more!
We Guarantee Your Satisfaction 
You deserve to feel confident that the lawn care company you hire will do the job to your standards. If you can't, what was the point of hiring them in the first place? Instead of just hoping for the best when it comes to getting professional lawn care near Cumming, hire a company that you know you can count on. Here at WinLAWN, we proudly back our service with a 100% satisfaction guarantee so you know that you're getting the very best turf care every time. Get started today and we promise you'll be a customer for life!