Image
Transform Your Lawn and Enjoy the Best Lawn Care Services in Johns Creek
Lawn Care in Johns Creek
Transform your lawn with our local lawn care services in Johns Creek. With 10 years of experience, we offer a range of services to keep your lawn looking its best.
We provide the following services:
Lawn Care: Our expert technicians will assess your lawn and provide tailored care to promote healthy growth and lush greenery.
Lawn Fertilization: We use premium products to provide your lawn with the essential nutrients it needs for optimal health and vitality.
Weed Control: Say goodbye to pesky weeds that detract from the beauty of your lawn. Our effective treatments will keep your lawn weed-free.
Aeration: Improve the health of your lawn by allowing it to breathe. Our aeration services will enhance water and nutrient absorption.
Lawn Disease Control: Protect your lawn from common diseases that can damage its appearance. Our treatments will keep your lawn disease-free.
Grub Control: Remove grubs from your lawn to ensure your grass stays green and healthy.
In Johns Creek's challenging climate, your lawn deserves the best care. We offer eco-friendly treatments and a 100% satisfaction guarantee. Trust us to create the lawn of your dreams.
Image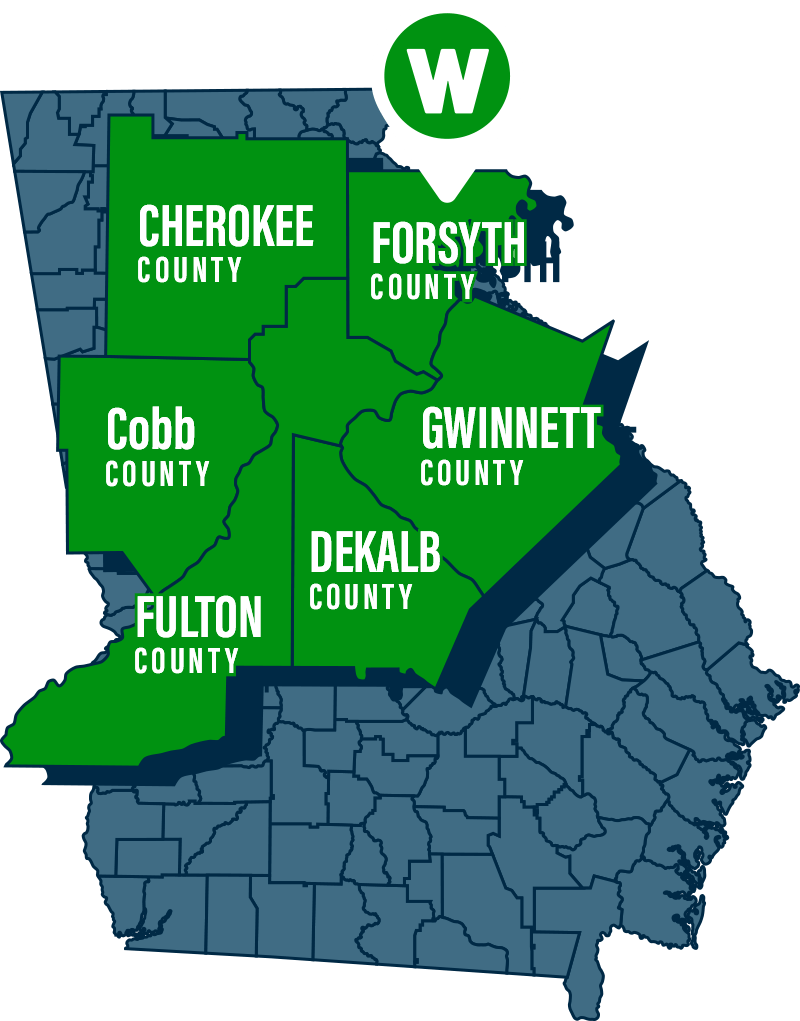 Local Lawn Care Company Serving the Community
WinLAWN is not just another lawn care service. We challenge the traditional approach to lawn care and offer a revolutionary solution that will make you rethink everything you know about maintaining a beautiful yard. Our treatment plans are not only affordable, but they are also highly effective.
Our lawn care program includes the following:
Free inspection to determine what needs to be done
Science-based approach to lawn care
Treatments are custom-made for each major grass type in Georgia, including Bermuda, Zoysia, and Fescue grass
Technicians have over 5 years of experience on average and will adjust our plans based on your specific grass type and yard conditions
Eco-friendly lawn care products that are safe for your local ecosystem
Don't settle for anything less than the best. Contact us today for a free estimate and experience the difference that WinLAWN can make for your yard.
Weed Control in Johns Creek
Are pesky weeds ruining the beauty of your lawn in Johns Creek, GA? We have the perfect solution for you! Our professional weed removal service will get rid of those persistent weeds and give you a lawn you can be proud of.
Here's why you should choose us:
Year-Round Weed Control: Our lawn weed service provides year-round weed control to ensure your lawn stays weed-free throughout the seasons. No more worrying about weeds taking over your beautiful lawn.
Local Expertise: We are familiar with the common persistent weeds local to Johns Creek, GA. Our experienced technicians know exactly how to tackle these weeds and prevent them from coming back.
Prevent Weeds from Germinating: Our weed control plans include pre-and-post emergent applications, designed to prevent weeds from germinating and taking root. Stop weeds before they become a problem in the first place.
Comprehensive Coverage: We use leading weed control products to provide broad-spectrum weed elimination. Our selective grassy weed applications will groom those invaders from your lawn, giving you a weed-free and healthy yard.
Flexibility: We offer contract-free service, giving you the flexibility to choose what works best for you. No long-term commitments are required.
Don't waste your time and money on DIY weed control products that may do more harm than good. Choose our trusted weed treatment service in Johns Creek and enjoy a weed-free lawn and a healthy environment.
Fertilization in Johns Creek
Experience the difference with our satisfaction-guaranteed lawn fertilization service in Johns Creek. Our expert team knows exactly what your grass needs to thrive, so you can sit back and enjoy a healthy, vibrant lawn all year round.
Here's why you should choose WinLAWN:
Our lawn fertilization service in Johns Creek delivers targeted nutrition to combat common weeds
Our carefully chosen fertilizer blends are tailored to your grass type
Seasonally-adjusted applications keep your lawn healthy year-round
Avoid the hassle of DIY products that may do more harm than good
Aeration in Johns Creek
Unlock the full potential of your lawn with our professional lawn aeration service in Johns Creek. Our science-based approach will leave your turf healthier and more vibrant than ever before.
Here are the key features of our service:
Promotes healthier turf: Our lawn aeration and seeding techniques in Johns Creek will loosen the soil, allowing your grass roots to grow deeply and with minimal resistance. This results in stronger, more resilient turf.
Dethatching: Our service includes the removal of excess thatch, which can suffocate your lawn and prevent healthy growth. By breaking up thatch, we ensure your lawn can breathe and absorb essential nutrients.
Liquid or core aeration: We utilize advanced aeration techniques, either liquid or core, to provide optimal results. This allows for greater rooting, improved nutrient absorption, and enhanced water flow.
Long-lasting treatments: Our lawn aeration service in Johns Creek delivers long-lasting results. With regular aeration and overseeding, you'll enjoy a lush, healthy lawn year after year.
Deeper nutrient release: By aerating the soil, we create channels for air, water, and nutrients to penetrate deeply. This promotes stronger root growth and ensures your lawn has access to the essential elements it needs to thrive.
Experience the WinLAWN difference today and unlock the full potential of your lawn. Our contract-free service puts you in charge, and we fully guarantee our work. Say goodbye to a worn-out lawn and hello to a vibrant, healthy landscape.