Lawn Care in Cumming, GA
That healthy, gorgeous, picturesque lawn that you've been dreaming of always seems just out of reach. Maybe you don't know where to start, you don't have the necessary tools, or the extra hours in the day simply aren't there. Instead of settling for a yard that you don't love, let the local pros at WinLAWN help you out with lawn services like: 
Year-round fertilization.

Weed control and prevention.

Lawn aeration and seeding.

Disease and fungus control.

Outdoor pest control. 

And more! 
Image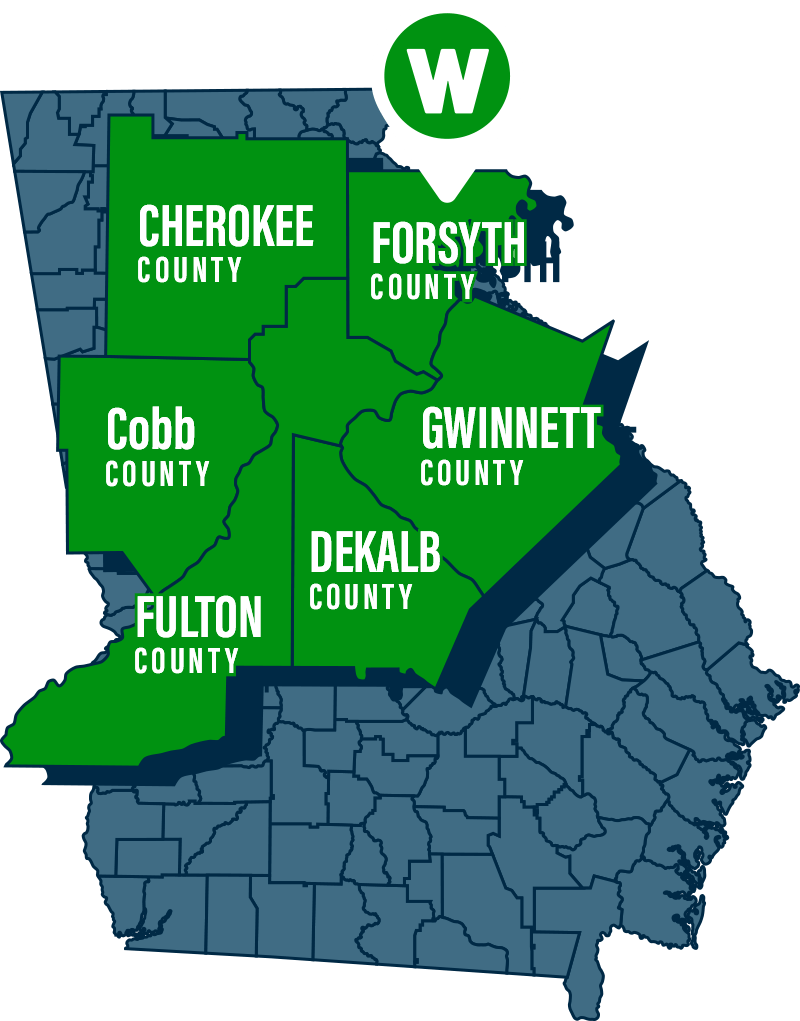 Lawn Care Pros Who Sweat The Small Stuff
With more than 10 years of local, hands-on grass care experience to our name, we know that the difference between a yard that you love and one that's just ok is in the details. That's why our technicians start small, getting to know your grass from the soil up to deliver results that you can feel good about. It's that attention to detail and dedication to our customers that has made us one of Georgia's most-trusted lawn care companies! When you work with us, you can expect: 
A customizable plan that we'll adjust to meet your turf care needs. 
8 seasonally-adjusted treatments for year-round care.
Contract-free options so you'll never be locked into a plan when you'd rather not be. 
A science-based approach that you can count on to get the job done right every time.
And so much more! 
Weed Control in Cumming, GA
We understand that weeds are a central problem for homeowners, property managers, and lawn care enthusiasts, taking up water, nutrients, and space from your lawn. If you don't have time to constantly deal with them, trust our weed control service in Cumming to help keep your yard safe! With industry-leading and effective products, that include both pre and post-emergent treatments, you can rely on us to protect your yard from: 
Broadleaf Plantains
Chickweed
Clover
Crabgrass
Dandelions
Henbit
Nutsedge
Wild Onions
And many, many others! 
Lawn Fertilization in Cumming, GA
Lawn fertilizing is a key component of keeping a healthy yard in Cumming, GA. Lawn fertilizer is important because it provides the necessary vitamins and nutrients to your grass so you can maintain its green and lush look. Regular fertilization helps ensure that your grass looks as beautiful as possible throughout the year. Additionally, signing up for our service saves you the headache and stress of trying to choose the right product in a market that's flooded with options. With us feeding your lawn, you can expect: 
Thoughtfully-chosen lawn fertilizer blends which we adjust to your specific turfgrass type.
Seasonal applications to ensure your lawn's nutritional needs are met across all four seasons. 
High-quality products that you can depend on to do the job to your standards. 
The beautiful, healthy, and robust yard that you've been dreaming of. 
And so much more!
Lawn Aeration in Cumming, GA
As the year goes on, it's normal for your grass to look a little worse for wear. This is especially true if you and your loved ones spend a lot of time out in the yard. Maybe you've noticed patches of browning or thinning grass, areas where it's stopped growing altogether, increases in the number of fungi and diseases, or a lack of proper drainage. If so, your grass is badly in need of aeration in Cumming! When this essential service is carried out by an experienced technician, your lawn will receive numerous benefits, including: 
Looser soil allows grass roots to grow more easily. 
A healthier soil biome that creates a rich and sustainable growing environment. 
Increased access to water, oxygen, and nutrients.
Greater soil drainage which reduces the level of standing water on your grass.
A stronger plant from root to stem to resist disease and fungus and even outgrow weeds. 
A fuller, more dense appearance when aeration and seeding are done together. 
And more!
Start Today With Your FREE Quote
Guaranteed Results for your Peace of Mind
Booking service from a lawn care company that doesn't stand behind its own work essentially equates to rolling the dice and hoping for the best. Here at WinLAWN though, we don't expect our customers to gamble when it comes to their property lawn maintenance. That's why we back up our lawn care services with a full satisfaction guarantee! With us on your side, you can rest assured that, at long last, you'll have your dream yard, no matter what
Areas We Service Around Cumming, GA
Not located in Cumming, GA? We service local communities near Cumming, including: