Lawn Care in Duluth
Are you tired of looking out at your lawn and feeling disappointed? The harsh climate of Georgia can really take a toll on your landscape, making it look dull and lifeless. But fear not! WinLAWN, your local lawn care company, is here to save the day. With 10 years of experience in the industry, we know exactly what it takes to transform your yard into a beautiful oasis.
Here are the individual lawn care services we offer:
Lawn care: We understand that Duluth's climate can take a toll on your yard, but don't worry, we've got you covered! Our team of experts will ensure it is healthy, vibrant, and well-maintained.
Lawn Fertilization: Give your yard the nutrients it needs to thrive! Our treatments will provide the right balance of fertilizers to promote growth and strengthen its roots.
Weed Control: Say goodbye to pesky weeds! Our industry-leading weed control methods will eliminate unwanted weeds, allowing your grass to flourish without any competition.
Aeration: Improve the health of your lawn by allowing oxygen, water, and nutrients to penetrate deep into the soil. Our aeration service will help prevent soil compaction and promote a healthier, greener landscape.
Lawn Disease Control: Protect your turf from harmful diseases that can damage its appearance and health. Our expert technicians will diagnose and treat any lawn diseases, ensuring your yard stays beautiful and disease-free.
So why wait? Don't let your landscape suffer any longer. Trust the experts at WinLAWN to deliver the results you've been dreaming of. Contact us today and discover the difference that professional lawn care can make. Your yard and your loved ones deserve nothing but the best!
Image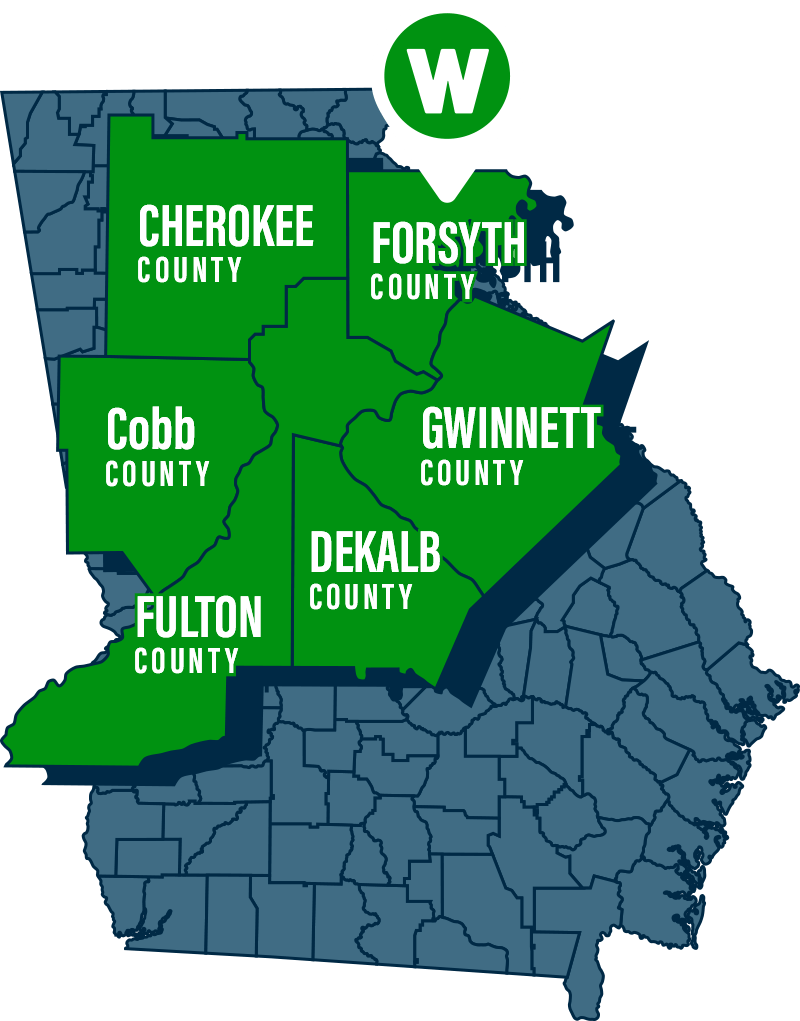 Weed Control in Duluth
Struggling with weeds ruining your beautiful lawn in Duluth, GA? Look no further! Our weed removal service is here to save the day. With our guaranteed weed treatments and year-round weed control, you can say goodbye to those pesky invaders for good. With us protecting your lawn, you can expect:
Comprehensive Weed Control: We specialize in eliminating common persistent weeds that are local to Duluth, GA. Our EPA-approved weed treatment plans are designed to prevent weeds from germinating and taking root, both pre-and-post emergent.
Industry-Leading Products: Rest easy knowing that our weed treatments are safe for your yard and the environment. We use a wide variety of only the best, industry-approved products.
Prevent Weeds from Germinating: Our pre-and-post emergent applications are strategically timed to stop weeds in their tracks. Say goodbye to those pesky weeds before they even have a chance to sprout.
Local Expertise: We know the common persistent weeds that plague lawns in GA. Whether it's crabgrass, dandelions, or clover, our lawn technicians have the knowledge and experience to effectively eliminate these nuisances from your yard.
Full satisfaction guarantee: We back our weed control service with a full satisfaction guarantee. We value your time, money, and peace of mind. If you're not happy, neither are we.
Ready to get rid of weeds and enjoy a weed-free lawn? Contact WinLAWN today and experience the difference of our top-notch weed control service. Say hello to a beautiful, vibrant lawn that you can be proud of!
Lawn Fertilization in Duluth
You want a beautiful yard and we are here to make that happen! With our guaranteed fertilization service, we'll give your grass the nutrition it needs to thrive. But we don't just stop there - we also offer a top-notch weed control service to keep those pesky weeds at bay. Here's why you should choose us:
Expertise in Duluth: We know the common weeds that plague turf in the area, and we have the knowledge and experience to tackle them head-on. Our team is well-versed in dealing with stubborn weeds like crabgrass, dandelions, and clover.
Tailored Fertilization Treatment: We understand that different lawns have different needs. That's why we carefully choose fertilizer blends that are specific to your grass type. Our expert technicians will analyze your landscape and create a customized fertilization plan to ensure optimal results.
Industry Leading Products: Safeguarding your well-being is paramount. Our array of industry-leading products exemplifies quality and efficacy. Rest assured, your safety, family, and pets are prioritized.
Full Satisfaction Guarantee: We stand behind our work and want you to be fully satisfied with our services. If for any reason you're not happy with the results, we'll work with you to make it right. Your complete satisfaction is our ultimate goal.
Exceptional Customer Service: We value your time and money, which is why we strive to provide exceptional customer service at every step. Our team is professional, friendly, and dedicated to making your lawn care experience a positive one.
Don't let those persistent weeds ruin the beauty of your yard. Trust our lawn fertilization service to keep your grass vibrant, healthy, and weed-free. Contact us today for a pristine lawn that will make your neighbors green with envy!
Lawn Aeration in Duluth
Unlock the full potential of your yard with our lawn aeration and seeding service. Our experts are equipped with cutting-edge techniques like liquid or core aeration to promote healthier turf. Experience the power of our lawn aeration service in Duluth. By breaking up compacted soil, we create the perfect environment for your grassroots to reach their full potential.
Transform your landscape through our state-of-the-art overseeding techniques. Our team will strategically distribute premium grass seed to fill in bare spots and encourage healthy growth. Watch as your yard becomes a luxurious oasis, with each blade of grass standing tall and proud.
Reap the benefits of our long-lasting treatments. With our lawn aeration and seeding service, your soil will absorb more moisture and essential nutrients, resulting in a healthier, more vibrant look. Trust in our commitment to excellence and experience the WinLAWN difference today!